Complete Story

12/22/2016
Director of the Year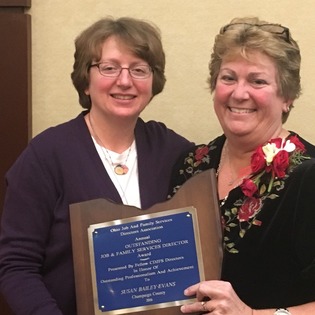 Susan Bailey-Evans - 2016 OJFSDA Outstanding Director of the Year
The Ohio Job and Family Services Directors' Association is pleased to recognize Champaign County Director Susan Bailey-Evans as the 2016 Outstanding Director of the Year. For the past five years Sue has also served as the agency director in Logan County.
Susan began her tenure as director in 2008. Since that time she has established herself as a leader amongst her peers and champion of the clients we serve, especially those in the child protective system. As noted by the numerous speakers during the recognition ceremony, Sue is a talented, reliable and faithful public servant.
As a testament to her skills as an agency director, nearly five years ago the Champaign and Logan County Commissioners requested Director Bailey-Evans to take on the unique role of serving as director of both agencies simultaneously. What started out as a one-year commitment quickly turned into a five year work arrangement which served both counties extremely well.
Never one to shy away from hard work, Sue dove into the challenge of the dual county role. She daily split her time between the two counties, working closely with both boards of county commissioners, agency staff and community leaders. She also actively participated in two OJFSDA districts (southwest and northwest) as her two agencies belonged to these different entities.
Sue had to take on significant fiscal challenges during this time, as well as work on multiple personnel and administration structural challenges. This unique two-county arrangement was extremely well received and highly regarded by the county commissioners and will provide all counties with a working shared services concept to consider in the future.
While busy managing operations in two counties, Sue always took time to mentor incoming directors. During the award luncheon, several directors highlighted the much appreciated advice Sue had provided them as they began their careers as county directors. Her words of wisdom and kindness have left an endearing mark on many of her coworkers and fellow executives which will pay forward for years to come.
In addition to her work with OJFSDA, Sue is also very active with the Public Children Services Association of Ohio where she serves as a board trustee. Her experiences and insight representing a combined agency is a valuable asset to both organizations. Director Bailey-Evans has been an active participant in both associations, including testifying before the general assembly on the need for additional investments in children services.
Anyone that has had the pleasure of working with Sue recognizes her commitment and dedication to the clients and her employees. Walking into an unprecedented management situation Sue was able to earn and keep the buy-in of agency staff, as well as the local elected officials.
She is always willing to go the extra yard to do the best she can for the people she represents. She is a doer and knows how to get things done.
Sue is resolute in her approach to managing through change and other difficult situations. She is caring and compassionate, reliable and helpful. In short, she is the kind of county director we all can look up to. She is an asset to the job and family service system and it is an honor to recognize Susan Bailey-Evans as the 2016 OJFSDA Outstanding Director of the Year.