Complete Story

01/18/2018
Congratulations Kate Offenberger
2017 OJFSDA Outstanding Director of the Year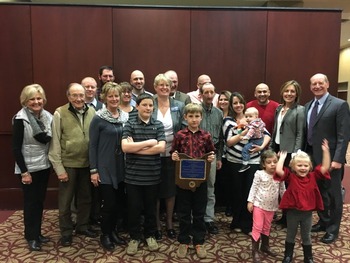 Kate Offenberger - 2017 OJFSDA Director of the Year
OJFSDA is pleased to recognize Carroll County Director Kate Offenberger as the 2017 Ohio Job and Family Services Directors' Association's Outstanding Director of the Year.
Kate was joined by the three Carroll County Commissioners and several agency staff, and was pleasantly shocked that numerous members of her immediate and extended family traveled to Columbus (as a surprise) to join the celebration. Fellow directors spoke to Kate's ability to stay focused on the matter at hand, offer solutions to problems, and follow-through on those solutions. Kate is clearly admired and respected by her staff, colleagues, and family. We are grateful that she is as involved in the Association as she is in her community and with her family.
Kate began her tenure as the Carroll County JFS director in 2002, after beginning work for the agency in 1985 as a children services workers, social services supervisor, and assistant director. As Carroll County director, she is responsible for administering the county's public assistance, workforce development, and child and adult protective services programs. From the very beginning she has been a proactive county director - client focused, a community leader and a strong advocate for the job and family service system.
She has invested years not only in strengthening Carroll County's programs, but also in strengthening the larger job and family services delivery system both in the region and state. These broader efforts help ensure statewide program policy that efficiently and effectively serves not only Carroll County residents, but individuals across Ohio.
As Carroll County Director, she has pioneered many collaborative projects with other counties and regions in the state to better leverage the resources being used to provide services throughout her community. Many of these efforts began long before "shared services" became a state focus. In addition to her contributions to her community, fellow counties, and OJFSDA, Kate is also actively involved in our sister association, Public Children Services Association of Ohio serving as their board Treasurer.
Regarding her participation and leadership in county director forums, Beth Rubin, Greene County JFS Director and OJFSDA President, said, "Kate doesn't just attend meetings – she participates in them, ready to roll up her sleeves and get the work done that is needed to improve services, support staff, and help her community." She continued, "The quality that really makes Kate stand out is her insistence on finding and offering solutions. No matter the topic or problem at hand, Kate will offer ideas and multiple options for action. And beyond that, she will volunteer to do the work on action steps to achieve outcomes."
During her acceptance speech, Kate shared some advice for newer directors to keep in mind:
Keep your sense of humor. Most things that we would feel are a crisis in our work life are really a "long way from the end of the world". Don't sweat the small stuff.
Learn how to adapt – we are in an ever-changing business with ever changing people that we work with, both as professionals and customers. We have to be able to lead our organizations in this ever-changing environment so that we can more readily meet the needs of the customers, families and communities that we serve. Be flexible and adaptable.
Balance your work, fun, family and spiritual life. You will need to take care of yourself before you can take care of others. Make "you" a priority.
Be kind to others. It seems that our society is so quick to judge others and so much of our communication is done via social media – Twitter, Facebook, Instagram and Snapchat – which is all one way communication. We should practice being kind to one another every day. Teaching tolerance, focusing on the positives and treating other with respect and kindness will go a long way to improving the relationships that we have.
It is because of this and more that OJFSDA is delighted to recognize Kate Offenberger, Carroll CDJFS Director, as 2017's Outstanding Director of the Year.