Complete Story

03/16/2018
2018 Annual Training Conference Welcome
2018 Committee Chair Lauren Cavanaugh
Dear Conference Attendee:
I am excited to welcome you to the 62nd Annual Training Conference of the Ohio Job
and Family Services Directors' Association.
Job and Family Services staff across the state are experiencing a great deal of change this year, especially with the upcoming conversion from CRIS-E to Ohio Benefits for SNAP/TANF cases. I know training has become such a large part of your everyday life in preparing for these major changes that you may be feeling a little trained out. My hope is that the Annual Training Conference will offer you an array of sessions that will broaden your knowledge and positively impact you when you return to work back in your respective agency. I know it isn't easy to be out of the office, particularly during such a crucial time, but we also must recognize how important it is to get away, expand our knowledge, and have some fun while we're at it.
This year's conference gives you an opportunity to hear from the 5 Pilot Counties on how they have managed change as well as helpful ideas and strategies on how to prepare yourself and your agency as the statewide implementation of SNAP/TANF into Ohio Benefits approaches. We are proud to offer a variety of sessions that cover a range of topics such as; Comprehensive Case Management &
Employment, the Supplemental Nutrition and Assistance Program (SNAP), Temporary Assistance for Needy Families (TANF), Medicaid, Workforce Development, Leadership/Supervision, Human Resources, Child Care, Fiscal, Improving Your Work Life, Electronic Document Management, the Opioid Epidemic, plus many more.
The Conference Committee has been working extremely hard to ensure that your experience at this year's conference is both enjoyable and educational. One of the most exciting aspects of the Annual Training Conference is the opportunity to learn from one another, expand your professional network, share best practices, and of course step away from the day-to-day stress and enjoy our time together. To make sure you don't miss out on anything the conference has to offer, we encourage you to download and utilize our Conference App to stay connected to everything happening during the event.
The work that you do every day impacts the lives of so many Ohioans! We should all be proud of the many successes we have experienced over the past several years. Every success builds on the last to help us in our mission to serve the citizens of Ohio in their times of need.
Thank you for your hard work and dedication! I hope you enjoy this year's conference.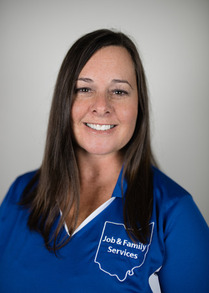 Sincerely,
Lauren Cavanaugh

Chair, 2018 OJFSDA Annual Training Conference
Director, Warren County Department of Job and Family Services