Complete Story

12/21/2018
Congratulations Kathy Oliver
2018 OJFSDA Outstanding Director of the Year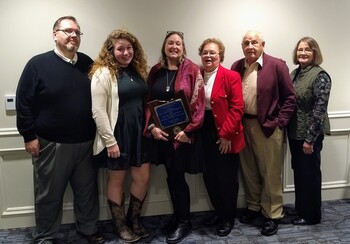 Kathy Oliver - 2018 OJFSDA Director of the Year
OJFSDA is pleased to recognize Seneca County JFS Director Kathy Oliver as the Ohio Job and Family Services Directors' Association 2018 Outstanding Director of the Year.
Kathy began her tenure as the Seneca agency leader in 2003 and since then has been heavily engaged with the Association at both the district and state level. She has held nearly every officer role and led the organization as our Association President in 2015 and 2016. Kathy is a passionate, dedicated, and hardworking public servant. She continually strives to improve the services we provide to better the lives of the citizens we serve.
Before entering public service, Kathy studied psychology at Heidelberg University and then went on to earn a master's degree in counseling. After graduating, she worked for a developmental disability residential provider before moving into family and emergency counseling. Eventually she got involved with the Job Training Partnership Act (JTPA), a federal program that addressed unemployment. JTPA inspired her passion for workforce development and led her to a job where she worked for both Seneca and Sandusky County Job and Family Services. She served as a Workforce Administrator and Assistant Director before becoming Director of Seneca County JFS.
She leads by example and always the first to volunteer to help and lend her time and expertise to a project. Nearly a decade ago she agreed to co-chair a committee to help modernize the JFS system. The work of that committee has since led to many efforts to find efficiencies and utilize technology to better serve our clients. She also has been instrumental in finding ways to combine workforce and human service systems to improve employment services and strengthen the Seneca County workforce.
As director, she is responsible for managing a quadruple combined agency. Kathy sees the opportunities inherent in managing complex systems to find creative ways to better serve our clients. She continually works with her peers to improve her knowledge and find ways to improve outcomes.
During her time as OJFSDA President, Kathy led a comprehensive and positive effort toward Association collaboration. Seeing an opportunity for shared services, she coordinated a joint study and led multiple combined leadership meetings that generated recommendations and options for working together to strengthen and advance the county human services system. We have seen tremendous results from this work and improved working relationships between the county organizations.
Kathy is recognized throughout her community and across the state as a leader in workforce and human service programs. She never misses an occasion to learn from others what is working and find ways to enhance our system. She has built an incredible team of like-minded managers that help implement new ideas and serve the community. She also wants the best for her workers and has established an excellent management training program for her staff to develop new job skills to increase leadership opportunities for those in the agency.
Beth Rubin, Greene County JFS Director and OJFSDA Immediate Past-President, stated at the award ceremony, "Kathy is one of the most hard-working, generous, and kind leaders I have ever known. Regardless of the topic or issue at hand, she consistently brings the conversation back to the well-being of our customers and their opportunities for self-sufficiency. Her ability to inspire others through her generosity, openness, and friendly approach makes her a stronger leader, and she does this naturally, without any thought of personal gain or influence."
During the award presentation at our annual banquet, Kathy was surrounded by family, friends, staff, and peers, all anxious to congratulate her on this well-deserved recognition. While she is passionate about her work, anyone that knows her also knows it is her family that is her greatest passion and motivation. The banquet provided time for her peers to also get to meet her husband and daughter, as well as her parents and extended family members and we were thrilled they were able to take part in the celebration.
When asked about the award, Kathy said, "It is an absolute honor and blessing to be selected as the 2018 Director of the Year for Ohio Job and Family Services Directors' Association (OJFSDA). There are so many talented, skilled, and innovative Directors in Ohio. I consider myself fortunate to get to work with them on various committees, task forces and work groups. I am grateful for our staff, community partners and our Commissioners".
It is because of this and more that OJFSDA is thrilled to recognize Kathy Oliver, Seneca CDJFS Director, as 2018's Outstanding Director of the Year.